Echometer 15000 PSI Gas Gun
The High Pressure Gas Gun operates in implosion mode only, up to 15,000 PSI. This gas gun is useful in determining liquid levels, bottomhole pressures, locating the liquid level of corrosion inhibitors, and locating other anomalies.
Overview
In implosion mode, the volume chamber in the gas gun is bled to a pressure less than the well pressure, after which a poppet valve is rapidly opened to release gas from the well into the gas gun volume chamber in order to generate the pressure pulse.
The microphone is not noise-canceling and is less sensitive than the microphones on the Compact Gas Gun, Remote Fire Gas Gun or the 5000 PSI Gas Gun.
The 15,000 PSI Gas Gun performs best at pressures between 1,500 and 15,000 PSI. However, good results have been obtained at pressures above 1500 PSI (100 ATM) through the use of the 1/8" orifice needle valves which are standard on most high pressure wells.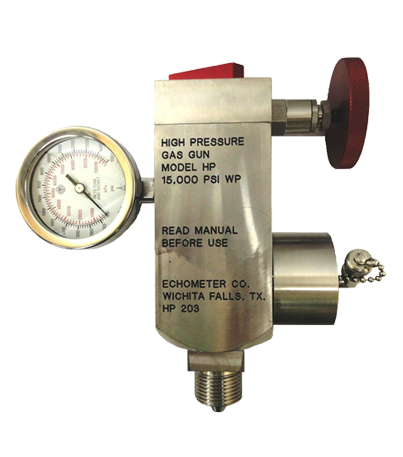 Specifications
Microphone is not noise-cancelling and is less sensitive than lower pressure gas guns
Test pressure: 30,000 PSI
Key Features
Operates in implosion mode only
Performs best at pressures between 1,500 and 15,000 PSI
Related Products
Well Monitoring Equipment used frequently with the 15000 PSI Gas Gun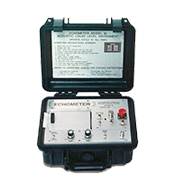 A portable dual-channel strip chart recorder that uses acoustics to obtain the distance to the liquid level in the casing annulus of a well.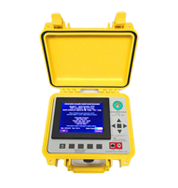 A stand alone, battery powered microprocessor controlled digital acoustic signal processor, recorder and display unit.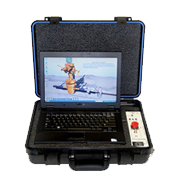 The Well Analyzer is a computerized instrument for acquiring liquid level data, acoustic pressure transient data, dynamometer data, and motor power / current data.