Hybrid-X Downhole Gas/Sand/Solids Separator
Prevent gas, sands and solids from reducing oil production
Overview
In all production, naturally occurring gases and formation sand, salt, scale, corrosion, aspahalthenes, and other solid contaminants enter the wellbore and create pumping inefficiencies that severely diminish production and can contribute to increased maintenance costs and unnecessary failures. The patented SPIRIT Hybrid-XTM Gas/Sands/Solids Separator is a simple, effective tool that uses cyclonic motion and internal baffling for effective downhole separation.

Key Features
Agitates and breaks apart gas-fluid emulsions
Captures sand and solids in the mud joint
Clean and gas free production fluid fills the pump intake permitting greater production and pump efficiency
Reduces excessive pump wear, sticking plungers, surface equipment wear or damage, pump fouling, and flow line fouling
Restores and optimizes rod pumping efficiency and longer component life
Easy to transport, assemble and run

Product Applications
The Hybrid-X is designed to increase production output on and decrease maintenance costs from lower volume wells.
Production volumes ≤130bbl/day and ≤200 bbl/day
Production flows with higher gas volumes
Production flows with sand/solids contamination

Available Sizes
2-7'8"with 2-3/8" Pins ≤130bbl/day
3-1/2"with 2-7/8" Pins ≤200bbl/day
In two, easy to transport and assemble 10' sections

Related Products
Well Monitoring Equipment used frequently with the Hybrid-X Downhole Gas/Sand/Solids Separator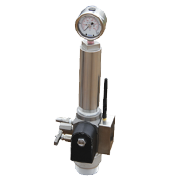 The Wireless Remote Gas Gun utilizes a high performance microphone with an excellent signal-to-noise ratio along with a 12 cubic inch volume chamber.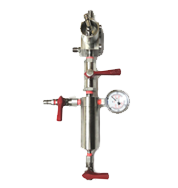 The Wireless 5000 PSI Gas Gun is a manually operated gas gun excellent for use in gas lift, flowing, and high pressure shut-in wells.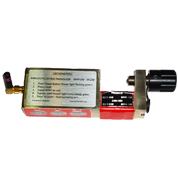 The data gathered by the device allows for the software analysis of polished rod power requirement, pumping unit beam loadings, rod loadings, and pump performance.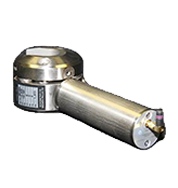 Wireless Horseshoe Transducer
Horseshoe Dynamometer system is designed to facilitate installation of the horseshoe load cell, and to eliminate measurement errors caused by changes in pump spacing.